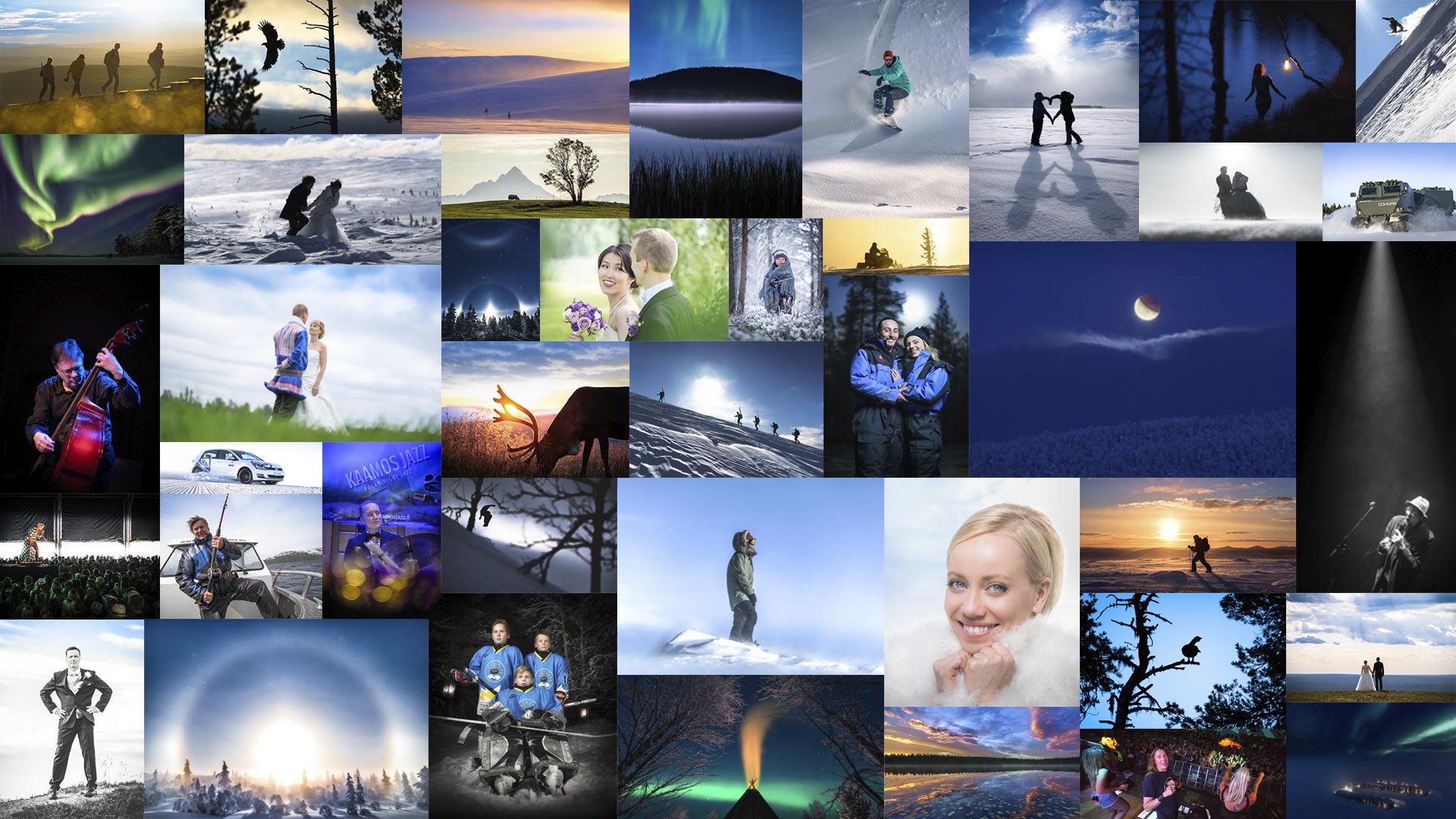 Based in Lapland
but I'm willing to travel further if required.
Massive photo archive
You need photos from Lapland?
We might already be covered.
Event
Photo or it didn't happen.
Think about the same day delivery
so you can update your some instantly.
Wedding
Documentary style for real emotions.
Black clothes, bright mind and sharp lenses.
Photojournalism
Lehtikuvaajan VEAT, Jyväskylä 2016
Commercial
Businesses needs a fresh material all the time.
Let's make your brand more valuable.
Photography tours
Experience the Lappish nature with the local photographer.
Northern Lights, Midnight Sun, Fall Colors.. The North is pretty nice, so let me help you to capture the best of it.
I'm always doing my very best and here are some satisfied testimonials.
Suurkiitos, todella hienoja kuvia olit saanut! Oikein tuli iloiselle ja hyvälle mielelle, kun on noin hyviä kuvia käytössä konferenssin viestintään!
Tiina – Eduskunta
Ihan *sensuroitu* hyviä!!!!!!
Loistavaa työtä!

Pasi – Leijonat -lehti
It's always nice to work when you're surrounded by professionals, like Juha, our ace photographer..
Sami – Test World
Kiitos, hyvältä näyttää!
Laitan yhden etusivulle.

Paula – Maaseudun Tulevaisuus
Very nice Pictures! Thank you!
Sven – Off Road Magazine
Me ollaan niin haltioissaan näistä kuvista! Erittäin tasokkaita ja
hyvällä maulla muokattuja.
Paula & Samu – häät
Erinomaisia kuvia ja hyvää tunnelmaa!

Samuli – 7Summits -tapahtuma
Kiitos Juha, aivan upeita kuvia! Kuten aina! Osaatko sanoa, oletko mahdollisesti käytettävissä ensi joulukuussa?

Tiina – Luxury Action
Erinomaiset kuvat olet tehnyt puolessa tunnissa. Tuossa on raikkautta!
Sarri – Otavamedia
Kuvat ovat hyvin onnistuneita ja olet saanut mahtavasti tallennettua juhlien fiilistä kuviin. Hienoja kuvia!
Jannika – Hellmanin Konepaja
Nostit juuri valokuvauksen uudelle tasolle.
Nämähän ovat enemmänkin taidetta!

Melina & Mika – Häät
Kiitos kovasti! Huippukuvia olit kyllä ottanut 🙂 
Elina & Toni – Häät
Juha was the best photographer and videographer that we could have wished for for our winter wedding in Lapland. He is a true expert of the Lappish nature and the backdrops of our location photos are so breathtakingly beautiful that they look simply unreal. We are still debating which photo to use as our thank you card, there are so many amazing ones. He also managed to capture many amazing moments from the wedding party, looking back at them brings back lovely memories every time. The little wedding movie he shot and edited had all the key moments of our celebration in it, you would think that there were at least 4 videographers capturing those images, but it was all just him. We couldn't recommend Juha more, everything he did exceeded our expectations!
Anna and Hamish McCann – Wedding